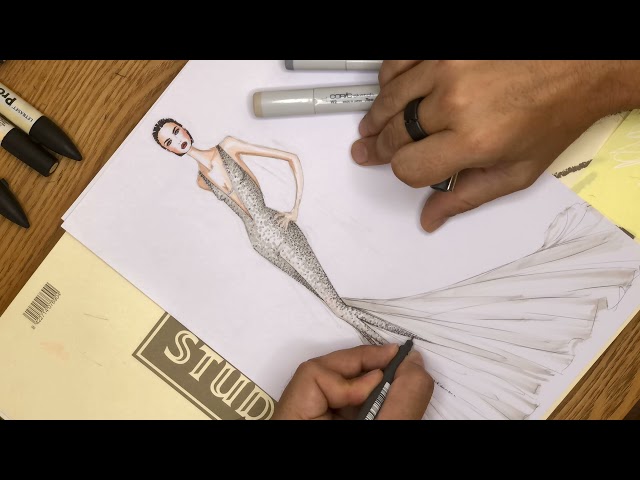 Discover Haute Couture with Hervé Moreau Couture
The designer himself, Hervé Moreau, will meet you at the location of your choice. 
You will share a unique moment and you will be able to live a magical experience, creating the wedding dress of your dreams, personalised to your taste and size, thanks to this new concept.
After many years of working with celebrities, royalty and VIPs, Hervé wishes to share his passion, knowledge and experience with all brides, so that their dreams can come true.
The first appointment can be made by videoconference. You will talk about the silhouette, the volume you would like the dress to have... and, of course, we want you to tell us about the theme of the wedding, the location of the ceremony and the decoration, so that everything is in harmony. Hervé is very interested in knowing the bride's tastes and discovering her personality. You will also be able to choose from a wide variety of fabrics.
After this first contact, Hervé will meet you in person where you choose and will show you a selection of sketches according to your tastes. Of course, these are open proposals, which will be modified to fit the dress you have always dreamed of. Hervé will work with you to create the final sketch of the dress, inspired by your love story. You will choose the materials and the embroidery or other details. Following the tradition of Haute Couture, your measurements will be taken and very soon your dream will come true.
During the second appointment, the first fitting of the wedding dress will take place. This session is the typical process of haute couture techniques that will allow us to better adapt the dress to your body, assess the volume and make certain modifications if you wish.
The excitement will be palpable during the third appointment, as it will be the last fitting of the wedding dress. All with delicacy, this fitting will allow us to work together on the final details of the dress and to see the accessories.
Your beautiful wedding dress will be meticulously finished. It will be delicately wrapped in a box protected by tissue paper. With great emotion and creating a memory that will last a lifetime, we will deliver the gown to you on the date and at the location of your choice with our best wishes.